Early this week, there has been a letter circulating online directing all clearing agents to subject their vehicles to a forensic analysis/tape lift that was alleged to have been shared by the Directorate of Criminal Investigations (DCI).
The  Directive of Criminal Investigation posted on Twitter on 7th of April confirming the letter is fake.
According to the letter, specific units/ vehicles must be subjected to forensic analysis/ tape lift of Chassis and Engine Numerals. Only then would the status of each unit be confirmed from the Interpol Database.
Some of the vehicles listed include Land Rover, Range Rover, Discovery, Mercedes Benz, B.M.W, Porsche of all models amongst others. The letter sparked some controversy amongst Kenyans, with some questioning whether the letter is fake.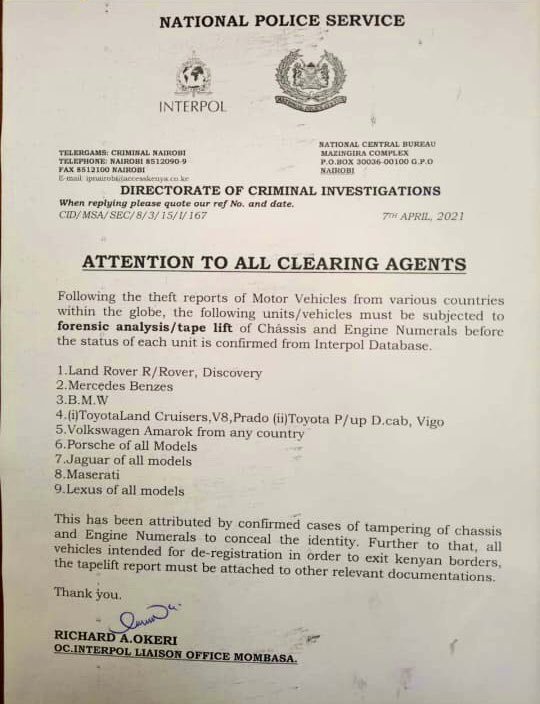 Citizens have raised their concerns over the continuous pile up of expensive cars in sale yards, with little to no sales reported. A  @KagzDi tweeted "Why would anyone to such great lengths because the contents therein help fight crime! Letter definitely not from criminals".
However, the DCI made it clear that the letter was a forgery and not from their offices. They instructed clearing agents to treat the directive with the contempt it deserves.
The Directorate of Criminal Investigations is a semi-autonomous directorate of the National Police Service. It is responsible for investigating complex cases.
Have you spotted information that you think is false on social media?  Send us a tip on info@bake.or.ke. Remember to verify the information before sharing it, to reduce the spread of misinformation.